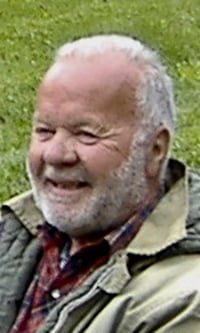 Ronald James Valens
December 18, 1929 – March 7, 2019
With great sadness we announce that Ron Valens passed away on March 7, 2019 at the age of 89, due to complications from a fall at home.
Ron will be greatly missed by his family, especially Joan, his devoted wife of 63 years; his daughter Margo and her husband Dave, step-grandchildren Danielle and Ian (wife Carolyn and daughter Kira); and his daughter Brenda and her husband Kai.  Ron was predeceased by his parents, Herbert and Edith and his siblings John, Rhoda and Ken.  Ron is survived by many caring relatives and friends.
Ron was a kind and gentle man; he was positive and helpful, well read in many subjects and loved a good debate.  He worked hard as an electrician for many years, and loved spending time in the great outdoors.  He was a simple man who never needed anything that he couldn't fix, repair or recycle.  He was the rock of our family and it will be difficult to go on without him.
Ron never wanted a fuss made over him, so there won't be a funeral service.  In the spring, we will gather family and friends together at one of the parks outside Edmonton that he loved so much.  He spent many hours after retirement volunteering at the Blackfoot Recreation Area.
The family would like to thank the following people for their compassion, kindness and support over the past few months:  Carole Valens, Dave Valens, Rick Comrie and Ed McAleese.  We'd also like to thank the warm and caring staff of the Holyrood Nursing Home for making Dad's last few weeks comfortable.
Ron was a fierce feminist and staunch supporter of women and girls; if desired, please give to WIN House or Wings of Providence.