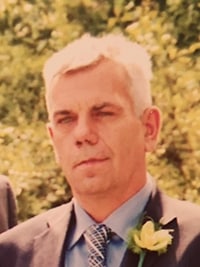 Ronald Stephen Pyke
Ronald Stephen Pyke, age 62, of Innisfree, AB passed away peacefully on Saturday November 10, 2018 surrounded by family at Sturgeon Hospital following a long struggle with alcohol addiction.
He was born on May 9, 1956 in Wolfville, Nova Scotia to Archibald and Edna Lu Pyke. Growing up, Ron's family moved a lot with the Canadian Armed Forces. At a young age, Ron moved to Alberta to run his own welding business. Later he found employment as a Journeyman Welder with the Local 720 Ironworker's Union. He took immense pride in his work and was recognized for his many years of service.
It's difficult to summarize a man who battled with alcohol addiction for the better part of his life in an obituary. Many just saw him as "good-time Ronny".  But to others, he was a brother, a dad, a husband, and a loyal friend. Ron made many attempts to get sober over the years with close friends and family as his biggest supporters cheering him on, helping him at his worst and holding out hope that he would overcome his disease. But his addiction won time and time again.
Through it all, Ron will be remembered for his sense of humour, his contagious laugh, and his gift for storytelling—he was a real "joker". He liked fast cars, beautiful women and rock and roll.  Not necessarily in that order.
Ron is survived by his six kids, Ronald Stephen Pyke Jr., Bradley Pyke, Christopher Pyke, William Pyke, Samantha Dunn, and Benjamin Pyke; his grandkid's Carter, Taylor and Andrea; his brother Stanley Pyke; his sister Arlene Momborquette; his sister Rhonda Hachey; his brother Archibald Pyke Jr.; his sister Jennifer Pyke; and many other nieces, nephews and other family members. He is predeceased by his parents, Archibald and Edna Lu Pyke and sister Patrice Pyke.
Close friends and family are invited to celebrate Ron's life Saturday November 17, between 2 and 4 pm at Trinity Funeral Home 10530 116 St NW, Edmonton, AB. In lieu of flowers, please consider donating to addiction services or to a mental health initiative.