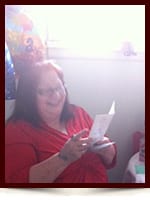 Rose Ann Kolisnyk
It is with sadness we announce the passing of Rose at the age of 65.
Left to mourn her loss is her daughter Cherie (Bob), 
her very good 
friend 
Terry, 
sisters; 
Sylvia, Mary, Olga, and brother Mickey (Linda)  
and numerous 
neices and nephews.
She was predeceased 
by her 
mother and father.