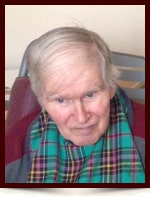 Ross James McAllister
December 28, 1937-October 22, 2014
Ross James McAllister passed away at the Leduc Hospital at age 77 after a brief illness.
Ross leaves to mourn his brother Malcolm, nephews and nieces as well as his dear friends the Eli Myles family. Ross was predeceased by his father James, and mother Mildred (nee Smith, Raines) his sister Roselyn Holmes and niece Darlene.
Ross and his siblings were born on the family homestead near Warburg to pioneer parents who each had arrived in Alberta with their parents shortly after it had become a province.  James and Mildred married during the Great Depression.  James farmed and travelled the area working in veterinary medicine while Mildred was a school teacher. Ross and his siblings attended a one room schoolhouse where their mother was the teacher. As a young man Ross graduated from Prince Albert Bible College. He then worked at the Edmonton General Hospital for 10 years as an orderly. He also farmed the family land for quite a few years and travelled a few times to the USA. Ross had a deep faith in the Lord and has now returned to his Father.
Ross will be missed by those who knew him and loved him. Many thanks to the staff of Salem Manor for the excellent care they gave Ross these past seven years.
Donations in his memory may be made to the charity of your choice.
A graveside memorial will be held at the Union Cemetery (known as Warburg Cemetery) 49038 Range Road 30 just north of Hwy 39, Thursday, October 30, 2014   1:00 pm.
Reception to follow in Warburg.