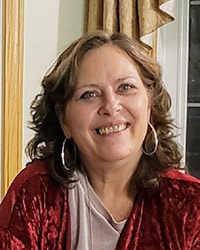 Roxanne Lorena Stewart, B.Ed.
Roxanne Lorena Stewart, B.Ed., of Edmonton, died on August 25, 2019 at the age of 55.
She is remembered with love by her husband, Dave Marusiak, mother, Betty Stewart, sisters, Wendy Aucoin, Laurel Stewart Downs, Laurie Pronyshyn, their husbands and children. Roxanne was the light of many and she will be missed dearly by her circle of family and friends.
A Celebration of Life will be held at 1:30 P.M., Saturday, September 7, 2019 at Pilgrim United Church, 9008-135 Avenue, Edmonton, AB. Reverend David Wasyk, Officiant.
In lieu of flowers, donations may be made to the Alberta Cancer Foundation Patient Financial Assistance Program, Pilgrim United Church or a charity of your choice.