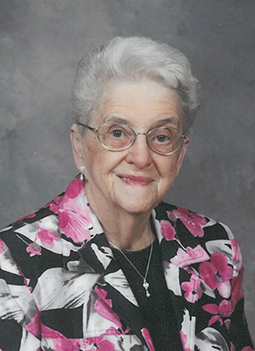 Ruby Elliott
January 20, 1931
-
December 19, 2021
Ruby Violet Elliott passed away peacefully at the University of Alberta Hospital on December 19, 2021, after a sudden and short illness at the age of 90 years.
Ruby was born at Carievale, Saskatachewan on January 20, 1931, the youngest of 8 children of George and Viola Moore.  She attended school in Thunder Creek district up to Grade 9.  Ruby had a short career as a nurse's aide before marrying the love of her life, Maurice Elliott on October 15, 1953.  She then took on the busy role of farmer's wife and mother to her two daughters. Maurice and Ruby celebrated 50 years of marriage in 2003.
Ruby always had a large garden and made preserves and canned produce to help get the family through the winter. She learned to knit at age 8 after her grandmother gifted her with knitting needles and yarn for her birthday.  Many people have clothing, blankets, dish cloths and doll clothes that she knit.  All her great grandchildren have a blanket knit by GG.  She also enjoyed cross-stitch, plastic canvas stitching and many other crafts. She sewed many clothes for her daughters when they were young.
Ruby collected spoons as souvenirs when she travelled and received many as gifts from the travels of her family and friends. She proudly displayed them in wooden spoon racks in the shape of all the provinces of Canada.
Ruby was a member of the Rebekah Lodge for more than 70 years and held all the offices at a local level and served on several provincial committees. She was District Deputy President of District #1 in Saskatchewan in 1962 and served as President of the Rebekah Assembly of Saskatchewan from 1982-1983. A happy circumstance of moving to Edmonton was being able to attend Lodge meetings again as many Lodges had closed in Saskatchewan.
Ruby was always very involved in the United Church as a member of the Official Board, Clerk of Session, Superintendent, teacher and secretary of Sunday School and Chair of Mission and Service.   She was also a Messengers and Canadian Girls in Training (C.G.I.T.) leader and a member of the United Church Women (U.C.W.). She sang in the church choir in Carievale, Estevan and for a short time after moving to Edmonton.
Ruby and Maurice were very proud that they were able to offer both daughters the opportunity for a career and that both had chosen nursing.  They were also very supportive of anything their grandchildren were involved with.  Together they travelled across the country to visit their daughters in New Brunswick and Vancouver and places in between. They drove to Saskatoon to watch Cayley play volleyball, to Medicine Hat to watch soccer and spent lots of time in Vermilion at the grand kids' events.  They didn't frequent bars or particularly like rock music, but when Jeremy's band was playing at the bar in Vermilion on New Year's Eve, they were there.  She also liked to talk about her talented, award-winning granddaughter Becky, Interior Designer and President and CEO of Bex Interiors in Ottawa. Ruby was so proud of her family.
 Later, without Maurice, Ruby continued to be a supportive spectator at any of the grandchildren's events and for Dave's choir concerts.
In 2011 she bravely moved to Edmonton, AB to be nearer to her daughters and grandchildren.  She participated in many activities at her new home in Virginia Park and in the Edmonton area. She grew up around and loved horses. Her new home was close to the former Northlands Racetrack, and she spent many enjoyable Saturday afternoons watching and betting on the horses. If we all bet the way she did we wouldn't lose money.
Ruby always enjoyed playing cards and missed those activities when Covid restrictions came.  She learned how to play cribbage online with her family and that was a frequent nightly activity in recent months.
Ruby was predeceased by her loving husband Maurice, her parents, brothers Edwin, Joe, Dave and Walter Moore, sisters Marietta McMillan and Alice Forrest.
She is survived by her two daughters, Brenda (Dave) Fisher and Sheila Elliott, grandchildren Rebecca (Geoffrey) Powell, Jeremy (Trina) Fisher and Cayley (Brenton) Reimer, and six amazing great grandchildren, Weston and Fergus Powell, Remy Fisher and Kennedy, Halle and Bree Reimer. Also survived by her brother, Mac Moore and many nieces and nephews.
Friends wishing to make donations in Ruby's name may do so to the Canadian Liver Foundation, Kids Help Phone, Grace United Church, or the charity of their choice.
Cremation has taken place and a private Celebration of Life service will be held on December 30, 2021, at 1100 in Grace United Church, Edmonton, AB.  Burial will take place at a later date in Workman Cemetery near Carievale, Saskatchewan.