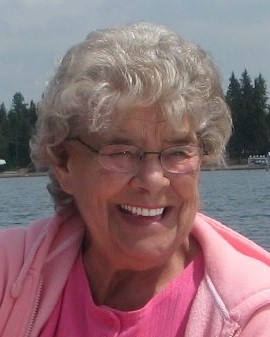 Ruby Viola LaRose
Ruby Viola La Rose (Stotz)
Born - Sunday October 31, 1937
Passed away - Tuesday April 9, 2019
Ruby had quietly passed away Tuesday April 9, 2019 at the Edmonton General Hospice Care Hospital due to complications with her diabetes and kidney failure.
Ruby is survived by her oldest son, Thomas (Jackie) La Rose from Drayton Valley, Ab., her Daughter, Laurie (Brian) La Rose from Edmonton, Ab., her youngest son, Tim (Lisa) La Rose, from Edmonton, Ab. and her brother Richard (Marge) Stotz from Camrose Ab.
Ruby is also survived by her Grand Children, Ryan, Krystal, Dennis, Tyler, Lindsay, Corbin, Brendon and Steven as well as her Great Grand Children Daylan, Brody, Travis, Brooklyn, Maya, Sage, Kate and Emmie.
She was predeceased by her parents Chris and Alvina Stotz, Brothers & Sisters- Leo, Erwin, Leona, Rena, Velma, Doreen, Harold (Ed) and her 2nd oldest son Larry.
A Memorial and Celebration of Ruby's Life will be held at the Trinity Funeral Chapel located at 10530-116th Street Edmonton, Ab. on Friday April 26, 2019 at 10:00 am.
In lieu of flowers donations can be made to the Diabetes Association at the following website https://www.diabetes.ca/donate?bucket=categorythree
Or a donation to the Kidney Foundation of Canada at the following website https://kidney.akaraisin.com/Donation/Event/DonationType.aspx?seid=5013