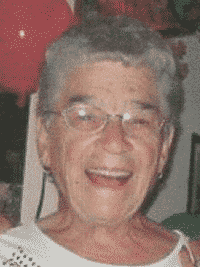 Ruth Cunningham
With heavy hearts and misty eyes, we are announcing the passing of our mother Ruth. She passed away at the age of 92 years on December 27, 2019.
She is survived by her son Gary, daughters Eunice (Rick) Wright and Darlene (Ron) Adams, grandchildren, great grandchildren, sister Vay Dumouchel and numerous nieces and nephews. Ruth was predeceased by her husband Ernest, daughter Lorna, grandson Steven, and daughter-in-law Sherrie. She will be sadly missed by all who knew her.
She loved her gardening, fiddle music, cooking, and most of all her grandkids and great grandkids.
Sincere thank you to the medical staff and care givers who have been by her side for the last two and a half years. The Care Ruth received in her stages of Dementia has meant so much to us. Sincere gratitude to St. Michael's Long-Term Care and Kensington Shepherd's Care.
Interment
The interment will take place at a later date and the family will notify all with further details.