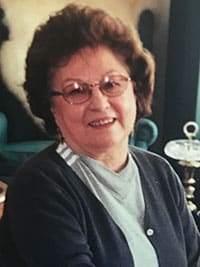 Ruth Elizabeth Petersen
Ruth Elizabeth Petersen (Ogle) 87, of Red Deer Alberta passed away peacefully at Bethany Nursing Home in Camrose Alberta on Tuesday February 19th, 2019.
Born in Wood Mountain SK to Joe and Lena Ogle, Ruth was a long time resident of Red Deer, Alberta, here she raised her 5 children. Ruth loved her family and especially loved her time with her grandchildren. Ruth would often spend time at her son in-laws (Bill Wyntjes) farm, gardening and caring for the animals. She enjoyed music, gardening, and coffee.
Ruth was predeceased by her parents, Joe and Lena her loving husband, Lloyd, son Gene (Gene-Jo), grandson Jamie (Jim), brother Lloyd, sister Evelyn and daughter in-law Patricia (Pat).
Ruth leaves behind her brother Bud, children James (Jim), Pam, Rocky, and Kelly, as well as many grandchildren and great grandchildren and many loving memories.
Special thanks to the staff of Bethany Nursing home for their care.
A memorial service will be held at a later date in her home town of Wood Mountain SK.