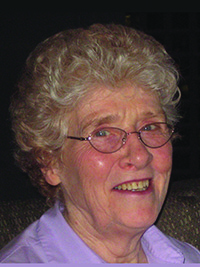 Sandra Wood
Sandra Wood, age 75, passed away peacefully on Wednesday July 11, 2018 at the Misericordia Hospital in Edmonton, AB. She was born December 1, 1942 in Leeds, England to Annie Sheridan and George
Rivers.
She graduated high school in Leeds, England where she also mastered the art of shorthand writing. She married Roy Wood in Leeds and had four children. Her greatest passion was raising her children as a kind, compassionate and strong mother.
Sandra lived her life enjoying the simple pleasures, chatting with friends and family, snacking and spending time surrounded by her loved ones.
Sandra had an uncanny energy and wit toward life which connected her deeply to those lucky enough to share time with her.
She is survived by her four children Paula (Myles), Sharon (Gord), Adam and Alex (Becky), her grandchildren Emily, Caroline, Abigail, Clayton, Miranda, Alexis, Rachel, and Sarah as well as her many siblings, cousins, nieces and nephews.
All whose lives Sandra touched are invited to the Muttart Conservatory, in Edmonton, Alberta from 6:00 pm to 11:00 pm on Tuesday, August 14th to reminisce, support each other and to celebrate Sandra's life.
In lieu of flowers, we ask that donations be made to the Cross Cancer Institute, https://albertacancer.ca/donate/sandrawood.