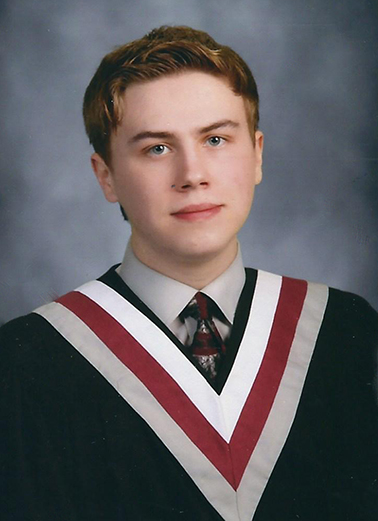 Scott Joseph Jankovic
October 21, 1998
-
May 10, 2023
With broken hearts, we are sad to announce our dear Scott Joseph passed away unexpectedly and peacefully at home at the young age of 24.  Scott was born at the Royal Alex hospital and showed he was a sensitive, affectionate, and loving child early on.  He was a life-long resident of St. Albert where he attended JJ Nearing school and graduated from Bellerose High School.
Scott was a frequent traveller, beginning in 1999 with regular trips to Thunder Bay to visit his extended family and enjoy the surrounding natural scenery, creeks and frogs which he loved.  It was always a happy place for Scott.  As he got older there were several other trips to Orlando where he especially enjoyed the roller coasters, and PEI where loved beachcombing and visiting lobster supper restaurants.  These trips left us with happy memories we will forever cherish.
Scott's interests varied over the years.  He played soccer for a few years and then he enjoyed several years of going to watch Edmonton Cracker Cats baseball where plentiful snacks and catching foul balls made the evening enjoyable regardless of who won.  Then there were the bike years, skateboard years, and several rock concerts.  Scott was a talented artist and he enjoyed drawing and painting at the spray walls.
Scott was a hard worker and always wanted to be independent.  He started working for Sorrentino's as a dish washer at an early age.  While there he acquired a taste for fine pasta and was fortunate to work with wonderful coworkers.   Scott particularly enjoyed donairs and patronized all the shops in St. Albert. Scott was fortunate to have some other great employers such as Crust Craft and Papa John's.  We thank all his employers for Scott's job opportunities over the years
Scott struggled with mental health for many years and that struggle got worse despite all efforts to help him.  Physical pain from injuries made his struggle even more difficult.  He is now at peace and no longer suffering.  We are thankful for the years we had together and fortunate that we have many wonderful memories of our Scott.
Scott is survived by his parents Colette and Branko Jankovic, brother Daniel Jankovic, and uncles Dale Fecto (Ann) and Greg Fecto in Alberta.  In Ontario Scott is survived by his cousins Steve Jankovic (Katie), Rob Jankovic and his boys Benjamin and Felix, Darren Jankovic (Karin), and aunts and uncles Cedo Jankovic (Donna), Ljubo Jankovic (Carol), and Mira Jankovic (Bozo).  Numerous other relatives will also miss Scott.  He is also missed by his dog Coco whom he loved very much.
Scott was predeceased by his grandparents Gladys and Robert Fecto, Persa and Branko Jankovic, uncles Ranko Jankovic and Nick Jankovic, and cousin Doug Jankovic. He will also be reunited with the other family pups Lily, Jupiter, and Stoney.
We wish to thank the friends who stuck with Scott through his journey.  We noted when Scott was delivering pizzas how kindness from customers, whether generous tips or kind words, could brighten a day that started darker.  We don't know you but we thank you.  In honour of Scott, please be kind to others and if someone is feeling down, be there for them, you will brighten their day.
Cremation has taken place and a private celebration of Scott's life will be arranged at a later date.
The family wishes to thank all the medical and counselling professionals and groups who have supported Scott and our family over the years. We also thank our family, friends, and neighbours for their love and support.
In lieu of flowers please consider a donation to SCARS animal rescue (where Coco was adopted from) or a mental health charity of your choice.