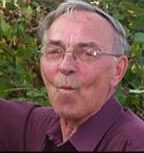 Sebastian Casper Deis
January 23, 1942
-
February 3, 2021
It is with great sorrow that we announce the passing of Seb Deis on February 03, 2021. His suffering from COPD is now over.
Seb was born on 23 January 1942 in Medicine Hat, Alberta, the oldest child of Sebastian and Catherine (nee:Fahler). He spent his early years on the farm near Golden Prairie, Saskatchewan until the family moved to Medicine Hat in the flats, where he grew up, went to school and started working for Alberta Treasury Branch (now ATB). 
Seb married Louise Kosolofski on October 12, 1963. They had their first child, Yvonne in 1964. They transferred to Didsbury in 1966 and their second child Michele was born there in 1967. They then transferred to Rocky Mountain House then to Pincher Creek where they welcomed their chosen son Darren in 1971. Further Treasury Branch transfers found them in Vulcan, Grimshaw, Edson, Andrew and Bonnyville. They lived in Bonnyville for 27 years before moving to Edmonton about 9 1/2 years ago. 
After retiring from ATB, Seb worked for Big George Appliances, then back to working for the Alberta Government with AFCS, until finally retiring in 2002. 
Seb was a lifelong volunteer and this is how he contributed to, and enriched each community. He was an Altar Boy, Blood Donor, Fire Department volunteer, Kinsmen, Lions, Bonnyville Bingo Association cashier, and softball coach. He enjoyed reading to school kids, Bonnyville Rodeo Association and storytelling at the museum. 
Seb was predeceased by his parents, Sebastian and Catherine, his brothers Ralph and Bill, and his nieces Barbara and Bonnie. He is survived by his wife of 57 years, Louise. His children Yvonne (Joe) Robert, Michele (Craig) Deis, Darren (Amy), his grandchildren Justin, Chris, and Shayann, his sister Carol (Jim) Lazzari and his Aunt Marion Coderre. He is also survived by numerous nieces, nephews, cousins, and many beloved in-laws and their families, and many friends. 
In his early years, Seb belonged to Sea Cadets, enjoyed playing ball, bowling, and coin collecting. Later on it was going to the local casino or Las Vegas. Seb's greatest enjoyment was spending time with family. Even if you were friends of family or distantly related, you were important to him. How you knew this best was if he teased you. He would love to hand out candy, and coins to the kids. Many people still have the 50 cent pieces or silver dollars he gifted them. He used to like going for walks and talking to all the neighbours, making his walk twice as long as it would take anyone else. He just loved being with people. Seb loved to play card or dice games and he would always be first to the table to get things set up to play. It didn't matter if he won, gleefully, or lost, it just mattered that everyone was together. He enjoyed a good game of lawn darts and the competitiveness of horseshoes.
 His favourite food was Chinese Food and this was always a staple on his birthday or Father's Day. 
Seb greatly enjoyed his desserts, whether homemade or store bought, if it was sweet he loved it. This may have influenced his great desire for berry picking, or apple picking or plum picking.. If there was a fruit in season, he would be picking it. Really, he loved a good bargain, so getting a pail full of fruit for free, brought him satisfaction. He loved to spend time outside, and the stories he then got to tell: like about the skunks he had to give wide berth to and his grandson having to hold on to him so the blackberry bushes wouldn't hold him hostage. The picture of him is doing just that, with the prerequisite sampling!
He loved to read, many books were always around as well as papers. He enjoyed the Senior's Paper. Yep, Seb liked to share stories. He even had some of his childhood memories published in the Seniors Paper. He got a kick out of knowing he brought a smile and a laugh to someone's day. 
One of Seb's greatest accomplishments was staying sober for 35 years, for this we are truly grateful and we thanked him often. 
We are sure going to miss this man. His love of family will always be cherished.