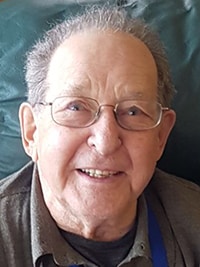 Severino Poles
September 7, 1926 - October 27, 2020
Beloved father, grandfather and great-grand father passed away peacefully at the age of 94 years.
He was predeceased by his loving wife of 63 years, Armida and his daughter-in-law, Rose.  He will forever be remembered by his children: Sandro (Laurie), Lory (Darryl da Costa), Sergio (Pina), Stefano, Silvio (Linda); Grandchildren: Matthew, Danielle (Craig), Jacob (Bernadette), Loni, Kelsi (Shaun), Curtis (Jessica), Kendal (Gina), Renée (Paul), Analee (Rob), Cory, Kaylee, Kian; Great-grandchildren: Ireland, Scarlet, Holly, Austin, Haley, William and Daniel.
Mass of Christian Burial
10:00AM Wednesday November 4, 2020
Santa Maria Goretti Catholic Church
9110 110 Ave NW, Edmonton, AB
Interment
St. Michael's Cemetery
Due to Covid 19 restrictions this will be a private service limited to immediate family members.  The service will be live streamed at: https://youtu.be/R5MbnMOt7P0
The family would like to express our gratitude to the Allen Gray Continuing Care Facility, The St. Albert Retirement Residence, and Shepherd's Care Kensington for their compassionate and professional care of our father.