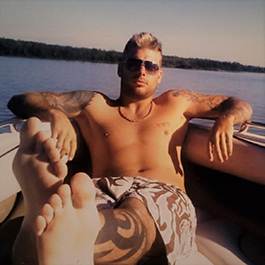 Shane Edward Devereux
July 2, 1985
-
November 11, 2021
It is with great sadness that we announce the passing of "our" beloved Shane.
Shane is reunited with those he loved and that are no longer with us on this earth. It was a gift to all those who were fortunate enough to have known Shane and to have been able to share in the precious moments he leaves behind. Those, along with his laughter, warmth and love will forever be with us.
Shane was loved by many and he leaves us far too soon.
He is survived by his love, Loribeth, his brothers; Kevin (Lori), and Ryan (Colleen), his sister Paula (Jim). He also leaves his stepmother Susan, aunties; Eileen, Kathy and Moira, and his uncle Joe, as well as numerous cousins and entire step family.
Shane is predeceased by his father Bernie, his brothers Sean and Todd, grandparents James and Kathleen Devereux, Rodney Todd, uncles Jim, Joe, and John and his aunty Paddy Darling.