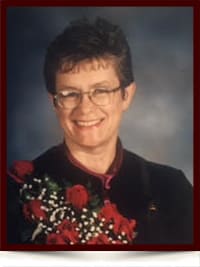 Sharon Ann Butterwick (nee Bakker)
Sharon Ann Butterwick (nee Bakker) died peacefully in Edmonton on January 25, 2017 at the age of 60. Sharon is survived by: mother Gertie Bakker of Red Deer; siblings: Harvey (Pam) Bakker of Leduc, Stephen (Gail) Bakker of Salem Oregon, Larry Bakker of Edmonton, Maralyn (Garth) McLean of Rocky Mountain House, and Duane (Sara) Bakker of Leslieville; her sons: Cory Butterwick of Edmonton, and Keith (Kylie) Butterwick; her grandchildren whom she was very proud of: Adria, Kristian, Tyler of Edmonton and Camryn of Fort Saskatchewan.
Sharon was born on February 11, 1956 in Edmonton. She completed all of her schooling in Rocky Mountain House, graduating from the Rocky Jr Sr High School in 1973.
She married Doug Butterwick in 1974. After divorcing, she upgraded her high school marks and began her x-ray technician course. Once Sharon finished this she completed her ultra sound course. She enjoyed her work every day. Sharon was an avid sports fan, she enjoyed playing baseball (being the only woman to clear the fence), volleyball and in her later years GOLF (sometimes playing 36 holes in one day). This became her passion.
Celebration of Life
Monday February 6 2017, 2:00pm - 5:00pm
Trinity Funeral Home
10530 116 street
We invite her friends and family to come and share the best memories Sharon.  In leiu of flowers , we request a donation be made to further cancer research.