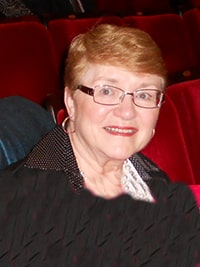 Sharon Elizabeth Donnelly (nee Evans)
April 3, 1939 – June 20, 2018
It is with heavy hearts that our family announces that Sharon Elizabeth Donnelly (nee Evans) was called home on Wednesday, June 20, 2018 at the age of 79 years. She passed away peacefully surrounded by her loving husband Bill, as well as family and dear friends.
Born in Moosejaw, SK, Sharon enjoyed her upbringing in both Moosejaw and Regina with her four siblings. One of her passions was music, and she and her sister, Jacquie, became members of the Saskatchewan Jubilee Choir which traveled across northern Canada and the United States.
Sharon attended the University of Saskatoon, graduating from the nursing program in 1960. She moved to Medicine Hat, AB in the summer of 1960 where she worked full-time as a nurse. In June 1961 Sharon met her husband, Bill. They first met when he took her up for her first airplane ride. The rest was history...the two of them got engaged six weeks later, and were married in Regina SK, November 25, 1961.
Sharon and Bill moved to Edmonton in 1964. Sharon worked as a registered nurse at the U of A hospital for 35 years and was clinical supervisor for 10 of those years. She retired on April 3, 1999.
Sharon gave her heart to the lord in 1982 and practiced her faith right up until the end. She was active in the Pentecostal Church, which included a mission to Dominica, and she served on the board of directors for Shepherd's Care Foundation.
Sharon will be lovingly missed by her husband Bill; her three children Elizabeth Butti, David Donnelly (Dawn Donnelly), and Dianne Donnelly-McKnight; seven grandsons: Bazler, Logan, Troy, Carson, Brendan, Liam and Ronan; granddaughter Marlee; her sister Jacquie Evans and brother Harvie Evans, as well as several nieces, nephews, and numerous friends.
The family would like to extend insurmountable gratitude to The ALS Clinic at Uof A Hospital, Alberta Health Services, Palliative Care Team, Dr. Dusang and the self-managed care team Tatiana Tandi, Mohini Barr, Bimala Gurung, and Shazia Yasin, who were part of this journey and provided Sharon with the tender care and utmost respect. We can't thank them all enough!
In eternal peace Sharon will join her younger brothers Bobby and David, her parents Dave and Ethel Evans, Bill's parents Maddie and Ross, and her sister-in-law Ann Evans.
A Celebration of Life will be held at 11 a.m. on Saturday, July 7, 2018 at the Millwoods Pentecostal Assembly (corner of 23 Ave. and 66 St.).
In memory of Sharon, donations to the ALS Society of Alberta 5418-97 Street, Edmonton, AB, T6E 5C1, would be gratefully accepted.