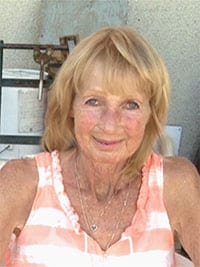 Sharon Gail Hicklin (Gail)
It is with heavy hearts and treasured memories that we announce the peaceful passing of Gail Hicklin, loving wife, incredible mother and wonderful grandmother (aka Nanny) on Sunday, January 7, 2018.
She is survived by her husband: Gord and her two children: Dave, Sharon (Mike) and two grandchildren: Tyler and Connor.
She is survived by her mother: Ethel (Jim), sister Sue (Ron) and brother Shane (Carol).
Gail can best be described as thoughtful, unselfish and caring.  Her positivity was truly outstanding, even in the worst of times.  She earned the nickname "Mary Poppins" because she would see the good in everything and refused to allow herself to be negative.  She had such incredible strength within her that resulted in her perseverance, bravery and most of all HOPE.
Gail loved her family and they were her inspiration to keep fighting through all the numerous difficult times she endured in her life.  She loved her husband, cherished her children and adored her grandchildren.
After what seems like a lifetime of pain, she is truly pain-free and this is our only solace.  She will always have a special place in our hearts.
We sincerely want to thank her doctors and nurses at Leduc Hospital for their care and compassion.
A Celebration of Life will be held at Leduc Lions Campground in the summer of 2018.