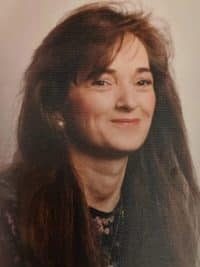 Sherry Grace Harris
Sherry Grace Harris passed away unexpectedly at the age of 57 on October 9, 2019.
Sherry was born on October 10, 1961 in Edmonton, Alberta. As an infant, she was diagnosed with blood poisoning, which would set the stage for a life of difficulties with her leg, back, and hip, but it did not slow her down! Sherry started her career in security at the Edmonton Public School Board in 1981 and worked there until her passing. She was proud when they bought her a special chair for her back and leg. Sherry enjoyed making shadow box art, sewing, shopping, and camping/fishing with her friend Darren.
Sherry is survived by two brothers: Glen & Dennis Harris; sisters: Geraldine Sutton, Georgina (Calvin) Briggs, Gloria Harris, Bonny Sim, and Sandra Harris, as well as many nieces, nephews, and other relatives.
Sherry was predeceased by her parents: Stephina and Ted Harris; brother-in-law: Wade Sim; her grandparents, and many aunts and uncles.
Sherry was a strong person who never feared anything or anyone. She will be greatly missed by everyone who knew her.
A "Celebration of Life" will be held for family and friends at Amiskwaciy Academy. The Harris family would like to express their sincerest thanks to Amiskwaciy Academy. Sherry will be laid to rest at a later date.
Sherry was a firm believer in Stars Air Ambulance; in lieu of flowers, any donations made to Stars Air Ambulance would be greatly appreciated.