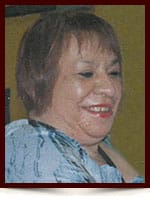 Sherry Mae Bellerose
Sherry Mae Bellerose passed away July 7, 2016 at the age of 55.  She leaves to mourn her siblings: Joyce  Tanton (Don), Ken Bellerose (Julie), Gary Bellerose, Clarence Bellerose, Brenda Ewanchuk (Myron), Brian Bellerose (Marie), Linda  Curtis (Wilson), Matilda Andriuk (Leonard), Terry  Bellerose (Audrey) and Susie Erasmus. Sherry will be fondly remembered by her many niece's nephews and her loving foster brothers and sisters.  Sherry is predeceased by: parents, Mary Bellerose, Joe F. Ladouceur, siblings: Luke Bellerose, Claudia Bellerose, Delores Bellerose and Myrna Bellerose, foster parents William and Bertha Erasmus, foster brother Robert Erasmus and foster sister Mavis Erasmus.
Celebration of Life
2:00 p.m. on Saturday, July 16, 2016
Trinity Funeral Home
10530-116 Street NW Edmonton, AB.