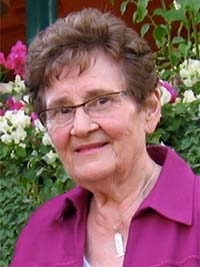 Shirley Doreen Banash (nee Milbrandt)
It is with profound sadness and much love that we say goodbye to Shirley Doreen Banash at the age of 84 years. She was the heart of our family and leaves behind a legacy of perseverance and strength far greater than her physical stature. We are all blessed for having her as a wife, mother, grandmother, great grandmother and simply as a very special friend.
Shirley was born on August 6, 1935 in Yorkton, Saskatchewan to August and Dolly Milbrandt. She was raised on the family farm near Springside, SK where she grew up with her only brother, Clarence. At the age of 24, Shirley left the farm for Edmonton, Alberta to start a career working at the Bank of Montreal on Jasper Ave. While attending the Edmonton Central Baptist Church she caught the attention of a young chap, Harvey, who was singing in the church choir. Harvey got a chance to introduce himself to her on the church steps and it was the start of a beautiful relationship. A few years later, on September 2, 1961, Shirley married Harvey back in her hometown, Springside.
They came back to live in Edmonton where all four of their children were born. As the home in Edmonton was getting too small they decided to move out to an acreage close to the Spruce Grove area in 1976. This is where Shirley really enjoyed many years of a huge garden and providing for her family, the most important job in the world. When the family acquired the Banash cottage at Alberta Beach, this became the summer hot spot. Shirley always enjoyed going out to the lake, which was a perfect venue for many family activities. They loved to get out on the lake with the boat trolling for fish with anyone who would go with them - especially the grandkids. Early family holidays were spent camping in the motorhome at Miette Hot Springs in Jasper and going back to Saskatchewan to visit family and friends. Shirley and Harvey decided to venture out to see the world, they got to visit many places with friends such as; Cruises in the Caribbean, Hawaii, Europe and her favorite trip - Holy City, Jerusalem and tour "Footsteps of Jesus".
Wanting to be closer to family brought them to Sherwood Park in 2010. Many happy times were spent together at birthdays, celebrations, and holidays, as being with family was a very important part of her life. She would often talk about the special times God gave her, having the ability to spend time with the grandchildren and great grandchildren - each of them were very precious to her. Shirley and Harvey got to celebrate their 50th Wedding Anniversary with a very memorable family trip to Mexico.
In Shirley's spare time, which she did not have much of, she loved to; study the Bible - Shirley became a Seventh Day Adventist when she realized God's truths for her life; crochet - many beautiful doilies were made and even table cloths; sew - some of her sewing projects were matching outfits for the children and baby blankets; bake - LOVED her pumpkin pie, poppy seed bread and cinnamon buns; and cook - everyone knew that if they were hungry Shirley's house was the place to be, there was always enough food for all. She also had a great interest in studying health and passing on her vitamin wisdom to anyone who had an ailment.
God blessed Shirley and Harvey with 58 years of marriage and God remained a major focal point in their lives. Lately, one of her favorite things to say when she was going for a nap was - "I am not napping, I am Laying and Praying", God and she were close. Shirley peacefully went to sleep on April 4, 2020. She will be lovingly remembered and sadly missed by her family and friends.
Shirley's memory will be cherished and never forgotten by her loving husband, Harvey; son, Darwin (Coralie) Banash - Rylan, Carson and Kaden; daughters, Charlene (Matthew) Hymanyk - Jayden and Bryson and Teresa (Michael) Hymanyk - Nathan and Rachel; grandson, Crayton (Nikki) White - Addison, Brooklyn and Joshua; and many other family members and friends. Also, she is survived by daughter, Janelle (James) White - Gaylene
Jesus said, "And this is the will of my Father who sent Me, that everyone who sees the Son and believes in him may have everlasting life; and I will raise them up at the last day. John 6:40
Celebration of Life
Due to the unprecedented times we will not be having a traditional funeral. Instead we will have an Online Tribute for Shirley to be shared through the Facebook Group page:
Tribute to Shirley Banash
A video/slideshow presentation will be uploaded on APRIL 20th, 2020
Please JOIN the group page and feel free to share Photos, memories and condolences on this page and/or at https://www.trinityfuneralhome.ca/obituaries/
Memorial Donations
In lieu of flowers, donations are gratefully accepted to
ADRA Canada- Justice, Compassion, Love
20 Robert St W
Newcastle, ON L1B 1C6
Website - https://www.adra.ca/donate/