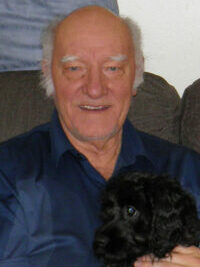 Siegfried Henry Derksen
February 28, 1938
-
October 28, 2020
Siegfried Henry Derksen (Feb. 28 1938 – October 28 2020) - who preferred to go by Henry, or Hank, or his nickname "Dusty" - was the youngest child of four from a family of Manitoban Mennonite farmers. With a gap of several years between him and his next eldest sibling he grew up without a similar age cohort, and so he spent a lot of time as a child exploring the farmlands and woods and playing on his own. He enjoyed the company of the many cats and dogs on the farm, who accompanied him on his adventures.
He attended Jerome school, a local single-room country school for all lower grades, and then went to a boarding high school, the Mennonite Collegiate Institute, in Gretna, Manitoba. It was here that he got the nickname "Dusty" here from the brushcut he wore at the time. After high school he took his first job away from the farm, stocking shelves at a supermarket.
He didn't spend long there, however. He had received a scholarship and became the first of his family to go to university. Since university was not really a thing that had been expected out of life he didn't have a solid idea of what to take, so when he arrived to sign up for courses he went through the list and methodically eliminated the ones that didn't interest him. Based on what was left, Henry decided to take a civil engineering degree from the University of Manitoba.
Upon earning his degree he went to work for CN Rail, surveying rail lines for several years. He spent one summer surveying in northern Ontario, fondly remembering the wilderness he explored and co-workers he met out there. One more summer surveying in Winnipeg setting up Symington Yards, one more surveying in Toronto. After his time with CN Rail he moved on to work for Proctor and Gamble on process engineering and assembly line design for several years. After Proctor and Gamble he spent a summer doing work in Ontario on farm drainage surveys, and then went on from there to work for a company that sold reinforcing steel for construction work in Toronto. In his four years there he met many more friends with colourful backgrounds.
Over his time working there he found himself promoted into increasingly managerial roles, away from direct engineering, and so Henry decided to take an MBA. He earned it from the University of Western Ontario, in London, Ontario. With his MBA secured Henry began working for the Federal Civil Service, in the Department of Public Works. From there he transitioned to working for the Department of Western Economic Development, giving grants to businesses filling new niches in the Canadian economy. Henry finally settled into a long-term career here, eventually spending 28 years at it.
He met Monique Chantal, married her, and went on to have two children - Bryan and Collin. The family eventually moved from Winnipeg to Edmonton, after which Henry and Monique divorced. He raised his two sons as a single parent and did a fine job of it despite facing many challenges, particularly in supporting Collin, who suffered from autism.
He continued to live in Edmonton with his sons into retirement, traveling on camping trips into the Rockies or back out to his old home turf of Manitoba. He was tragically predeceased by his son Collin, who died six months prior to him. He is survived by his son Bryan, and his siblings John, Cornelius (Con), and Mary.
Henry was a fan of classic science fiction literature and collected a large library of favourites. He was an avid politics-watcher and enjoyed movies with happy endings. In his retirement he enjoyed puttering around his expansive back yard attempting to recreate the turf of his childhood, planting Saskatoons and white currents, chokecherries and rhubarb.