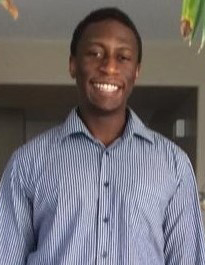 Silver Pekke Wamburu
With deepest sorrow we say goodbye to the love of our lives; our son, grandson, brother, nephew and friend Silver Pekke Wamburu.  Silver passed away suddenly in his home in Edmonton at the age of 26 on Monday July 6, 2020.  Silver was born in Edmonton, Alberta, Canada.
Silver is survived by his mother, Allys Saby, his sister Lynn Phillips, brother-in-law Chris Phillips, siblings Tez, Barbara and Andrew, maternal grandparents Mary Muzaki and Silver Sabunyo, cousins, aunts, uncles, extended family, close and dear friends all over the globe.  Silver was predeceased by his father Patriot Wamburu and his paternal grandparents.  We will continue to cherish the memories of Silver's life journey.
A visitation will be held on Thursday July 16, 2020 from 6:00 pm - 8:00 pm in the chapel at Trinity Funeral Home, 10530 – 116 Street NW, Edmonton, Alberta T5H 3L7. Due to the current COVID-19 pandemic restrictions, a limited number of guests will be allowed in the chapel at one time.  Those who attend are asked to adhere to provincial physical distancing rules. Masks and hand sanitizer will be available at the visitation.
Given the current public health situation, a small private funeral service will be held for immediate family on July 17th, 2020.  Although we are unable to accommodate you all in person, we invite you to attend the service virtually, via an online livestream starting at 10:00 am Mountain Standard Time (MST) on the date of the service.  A website link for the livestream will be provided prior to the service.
You may join the family at the Holy Cross Cemetery (14611 Mark Messier Trail, Edmonton, AB T6V 1H4) for the burial ceremony following the funeral service (at approximately 11:30 am). Directions to the burial site will be given when you arrive at the cemetery.
We look forward to gathering with you all for a celebration of Silver's life at a later date, when things have returned to normal and COVID-19 restrictions have been lifted.