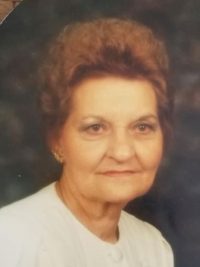 Sophie Hoy (nee Rosychuk)
Born in Smoky Lake, Alberta, December 14, 1929, to John and Dora Rosychuk
Passed away March 6, 2020 at the age of 90 years.
Sophie grew up in Athabasca; enjoyed dancing and baseball and later loved hockey and was an avid Oilers fan. She left Athabasca when she married Bud Guest, and lived all over the Western United States while he worked for the American Oil Fields. Moving back to Canada and eventually making Peace River, AB her home where Bud passed away. She later married James Hoy and owned and managed the dress shop "Sarah Jane Fashions" in the 1980's. Retired to Penticton, BC and later moving back to Edmonton, AB where Jim passed away, then from Edmonton to Leduc, her final home.
Left to cherish her memory are her children: Dave Guest (Suzanne), Debbie Spiller, Charlie Guest, Jerry Guest, Wanda Crawford (Bruce), Randy Guest, Wendy Connell, Darrell Guest and Linda McKinney (Vic); grandchildren: Allen, Kevin, Danny, Dana, Bud, Tasha, Robbie, Lisa, Tracey, Chrissy, Randianne, Garrett, Megan, Tannis, Torry, Mindy, Sarah, Chelsea, Jay, Lance and Leroy.
Preceded in death by her parents John and Dora Rosychuk, brothers James and Ted Rosychuk, spouses Bud Guest and James Hoy, son-in-law Doyle Spiller, son Steve Hoy and grandson Brian Guest.
Sophie will rest peacefully at Willow Park Cemetery in Lac La Biche, AB with her parents.
There will be no funeral at her request, but a family gathering will take place in Lac La Biche in the summer of 2020.