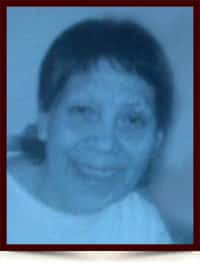 Sophie Mary Spence
On July 24, 2017, Sophie Spence sadly passed away in Leduc, AB, from a long struggle with Parkinson 's Disease.
Sophie was predeceased by her parents Albert and Eileena Spence, daughter Cynthia Lynn Spence, sisters Elizabeth Spence, Janet Dore and niece Jessica Dore.
Sophie was a fighter and always talked positively about others and had such a great love for her family and friends.
Sophie was survived by her loving and caring husband Mike McCarthy, 3 children; Patrick Spence, Diane Spence and Kyle Spence, sisters Mary Matte, Dorothy Spence, Joyce Spence and Edna Spence.
Mass of Christian Burial
1:00PM Wednesday August 9, 2017
Sacred Heart Church of the First Peoples
10821 96 St NW, Edmonton, AB
Sophie will be dearly missed by all.