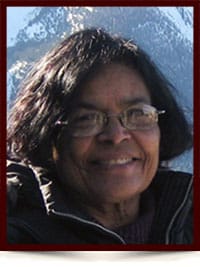 Sosamma (Sue) Chacko
February 19, 1936 - September 17, 2017
With sadness we announce the passing of Sosamma (Sue) Chacko on September 17, 2017. Sosamma arrived in Alberta from Kerala, India in 1967 after completing her schooling and being recruited to work in Canada. She spent a long and devoted career as a registered nurse both in Edmonton and rural Alberta. She conducted her work with great pride and attention to detail, and served her patients with compassion and respect.
While she enjoyed many recreational pursuits including gardening, knitting, and walking, she will best be remembered for her most passionate pursuit, her love and nurturing of family. With her husband John who predeceases her, she created a home filled with warmth and love. Her persistence through the many challenges that life brought was a gift and an anchor for her family. Through her strong faith and generous spirit, she led a life of example to those around her. She is survived and forever celebrated by her three daughters, Beena (Mark), Benita (Derek) and Sunita (Matt) and two grandchildren Ashwin and Elodie.
Mom, we will always remember your unwavering dedication to us, your love of life's simple joys, your warm laughter, and your amazing cooking-a labour of love that we enjoyed long after leaving home. You are grace and beauty personified and will never be forgotten. May you rest in perfect peace, safe in Heaven and next to Dad once again.
The family would like to extend their sincere thanks to the exemplary staff of St. Michael's and our companion caregivers for their love and dedication to Sosamma. She passed peacefully with much love surrounding her.
In lieu of flowers, donations can be sent to St. Michael's Extended Care Centre Society 7404 139th Ave Edmonton, Alberta T5C 3H7 or online at smhg.ca/donate.