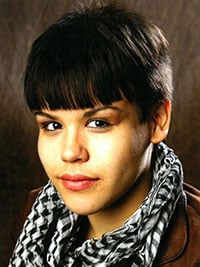 Stacey Jeanine DeVoe
April 12, 1989- March 8, 2019
It is with uncontrollable sadness and shattered hearts that we announce the sudden, tragic passing of our beloved Stacey Jeanine DeVoe at the tender age of 29 years on Friday March 8, 2019. Stacey was born on Wednesday April 12, 1989 in Fort McMurray, Alberta.
Stacey leaves behind to cherish her memory her four beautiful boys: Jurell (11), Landon (9), Jeremiah (5) and TJ (4). Stacey is also survived by her Mother, Judy Callan; her sisters: Roxanne Goodwin; Tiffany (Gregg) Herzog and Dawn Michelin (Sheldon) Anderson as well as nephews, nieces, aunts, uncles, cousins, and many more family and friends.
Stacey was predeceased by her older sister, Deidre, and step-father Moe DeVoe.
Stacey was the baby in our family, and the bridge to our lives. Stacey lived a wild, and carefree life- without limits or fears, always smiling and laughing, even through her tears. Stacey was someone who would help you, even through her struggles, not because she wanted to help, but because she loved you!
Stacey, your pain is no more, as you make your final journey home, where you will be dancing, singing, and laughter and love is guaranteed!
'We love you, hunny face'
Celebration of Life
11:00AM Monday March 18, 2019
Sacred Heart Church of the First Peoples
10821 96 Street, Edmonton, AB