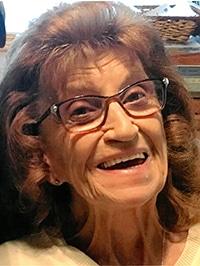 Stella Patricia Shuchuk
It is with deep sadness that we announce the passing of Stella Patricia Shuchuk.
She is survived by her loving son Norman; grand-daughter Melissa Morton (Jeff); great grand-daughter Brynn Morton; two sisters, Kay Biesel of Devon, AB and Marie Lesko of Edmonton; one brother Nestor Shuchuk (Florence) of Edmonton; numerous nieces and nephews along with her closest friends.
Stella was pre-deceased by her parents, Peter and Hazel Shuchuk, one sister Millie Wood, and two brothers, John Bowley and Alex Shuchuk all of Edmonton.
Celebration of life to take place Saturday January 26, 2019 at 2:00 pm at Trinity Funeral Home, 10530-116 Street NW, Edmonton, AB
At Stella's request, cremation has already taken place. In lieu of flowers, donations may be made to Capital Care Norwood, Palliative Care Unit, 10410-111 Avenue, Edmonton, AB T5G 3A2