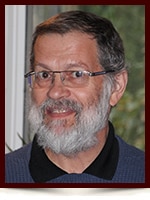 Stephen Alan Moen
Stephen Alan Moen age 60
Resident of Timbuktu, Alberta
Self-taught at everything he set his heart to. Woodworker. Award winning designer. Carver of wood, former President of the Edmonton Carving Club. Owner and lover of racehorses, donkeys, alpacas and dogs. Home builder. Soccer coach. Cross-stitch aficionado. Squirrel trainer (failed!). Founder of Moen Woodworks.
Spent 36 years fulfilling most of his wife Lisanne's zany ambitions, knowing when to merely pay lip service , and on rare occasion, setting his foot down firmly.
Known to go to the aid of anyone struggling to break into their car in shopping centre parking lots - we are certain that he was complicit in the theft of at least 6 vehicles...
Loved Singapore noodles, when he could wrest them from Mat's steely grip. Also yogurt, cheesecake and Rocket Pops!
Banned from driving in Croatia - within 30 seconds of arriving there...
Earned the wrath of his Starbuck's pals taking up playing pool after a 40 year hiatus - and beating them, oft times one-handed.
Liked nothing better than for his friends to loudly inquire in public spaces as to the well being of his Spotted Ass. To which his mother,Margaret replied that penicillin might help.
Known to sometimes (always!) be a stern taskmaster, sons Pete and Geoff would cringe when called on to help drywall ceilings or crawl through damp, dark, vermin infested and claustrophobia-inducing crawl spaces to hook up plumbing pipes.
We're not sure how it came to be that he predeceased his kin. In his eagerness to complete a job he'd be heard to say: I've just got one more cut to do and this saw keeps quitting - here, hold these 2 wires ... zzzzzzzztttttttt!
He always needed 5 ft of clear space on either side of the bench when watching soccer games, as he was prone to lash out with his feet in aid of the players on the field.
Served an hour in jail with a couple of "ladies of the night" for failing to obtain a dog licence - we somehow doubt that his sentence had the desired punitive effect...
Given the distances involved, we will have a series of raucous celebrations in honour of Steve's unpaid parking tickets.
In lieu of flowers, please pay it forward. and send casseroles...
Please give consideration to the Death with Dignity Act, an important choice for those facing lengthy and painful illnesses. Last but not least- give very careful consideration to your own end of life planning. Make clear and informed choices and make sure that your loved ones and health care providers are unequivocally aware of your desired treatment.