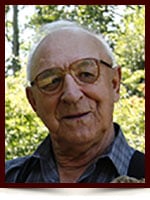 Steve Trynchy
Trynchy, Steve
1927-2015
Steve Trynchy of Whitecourt, formerly of Rochfort Bridge and Kelowna, passed away peacefully on July 4 at the age of 87 years. He is survived by his wife of 62 years, Stephanie; sons, Gary (Nola) and Lorne (Angie); daughter, Lorene (Robert); five grandchildren and one great grandchild. Steve was predeceased by a son, Terry; brothers, William and Joseph; and his parents, Petro and Anna.  Also left to mourn are brothers, Peter (Lorraine), Jim, Nick (Faye) and his sister, Annie Szybunka as well as numerous nephews and nieces.
Steve was a lumberjack, farmer, carpenter and a musician who loved to sing and entertain.  He was an avid baseball fan who fondly remembered playing ball as a young man with his brothers and many friends.
At Steve's request there will be no service.  A private inurnment will take place at a later date.
Donations to Steve's memory may be made to the Alberta Cancer Foundation.
Contact Information:  [wpseo_address oneline="1" show_state="0" show_country="0" show_phone="0" show_phone_2="0" show_fax="0" show_email="0"]