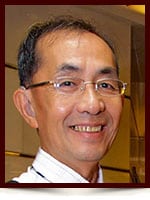 Steve Yiu Ming Cheung
Steve Yiu Ming Cheung lost his battle to cancer on July 28, 2015 at the age of 65. He leaves behind his wife, Kimi Cheung; his son Barnett Cheung, daughter in law Jen Lu, and soon to be grandson, Brayden Cheung; his daughter Jenny Cheung, son in law Malcolm Toyad, and grand daughter, Alexis Toyad.
Steve was born on March 20, 1950 in Hong Kong. He grew up in the neighborhood of Tsim Sha Tsui with two brothers and two sisters. He attended St. Stephen's College boys boarding school, where he made some life long friendships. He moved to Edmonton in 1974, where he met his wife, Kimi. They wed on March 31, 1976.
Despite his previous health issues, Steve enjoyed traveling the world. He and his wife often escaped Edmonton's winters to spend time with family and friends in Hong Kong. He had a passion of connecting complete strangers through origami, song, and "something impossible". He was a kind and loving man, who will be greatly missed.
Funeral Service
Saturday August 8, 2015 at 1:00PM
Trinity Funeral Home Central Memorial
10530 116 Street NW Edmonton AB.
Interment
Northeren Lights Cemetery