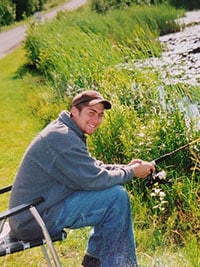 Steven James Alkerton
On December 1st of 2020, with great sadness I announce the passing of my beloved Son, Steven James Alkerton.
Steven was a man with a huge Heart, with a very kind and caring Soul.  He had a very infectious smile.  Steven loved the outdoors and enjoyed sunsets, Stargazing, Fishing, Camping but most of all Loved his Family.
Survived by his Mother Pamela Kalva, Sisters are Crystal, Amber Forrester ,brother William Forrester and Grandmother Beverly Rozell.  He also has three children Leanne, Aiden, and Haleigh. Steven had several Aunts, Uncles, Cousins, Nieces and Nephews.  Steven also had several extended family and friends.
Rest in Peace my Son,  Till we meet again.  You will be deeply missed and you are also deeply Loved by all.  You will always be my Sunshine.  Love you forever and always.