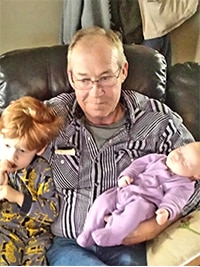 Stewart J. Cameron
Born during the cold prairie winter of 1958, in Eston Saskatchewan, to Stewart H. and Rubena (Millward) Cameron.
The youngest of six and only son, Stewart grew up in the great outdoors, first on the family farm and then in the forests of the Fort McMurray Frontier.
Hunting, fishing and hard work were a way of life. Stewart learned his trade as a young man and eventually started his own company. As an entrepreneur he was not only able to provide for his family but he also provided employment for many friends and relatives.
Stewart Married Cindy in 1980 and had two daughters. Through the years he was father to many more children than his own and these pseudo-adopted children gathered at his bedside with his family during his final days.
Though he accomplished much in his life that is worth mentioning, his greatest gifts were the homes that he helped create and the love he gave to us all. For that WE are grateful.
Celebratory Gathering
Saturday December 15, 2018 2:00PM
Trinity Funeral Home
10530 116 Street, Edmonton AB