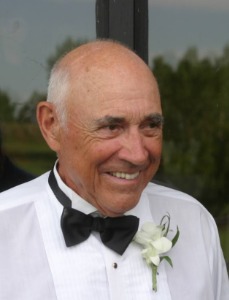 Stuart William (Bill) Gilroy
November 8, 1928
-
October 16, 2022
The world lost a true legend on Oct. 16, 2022.
Stuart William Gilroy (a.k.a. Bill, Sir Nookey, Mr. 69) was born Nov. 8, 1928 in Newmarket, Ont. He got his B.Comm. from UBC and started his career at The Hudson's Bay Company in B.C., before moving to Edmonton. He was Alberta's Director of Vital Statistics for a decade before going on to sell books for Lone Pine Publishing, to drive rental cars for Avis Budget and, in his early 90s, to deliver meals for Meals on Wheels.
Bill was an incredibly active person. He took up running in his 40s and ran marathons into his 70s. He was an amazing skier, still doing double-black diamonds in his 80s.
In the mid-1990s, he discovered the Hash House Harriers. That was a match made in heaven. He was, until his passing, the oldest active Hasher in the world. Bill also loved taking part in November Project, working out with his personal trainer, and doing stairs in the river valley right up into his 93rd year.
He was active, fun, outspoken and incredibly kind and generous, with a real knack to make people feel special.
Bill will be greatly missed by his wife Margie (a.k.a Muddy), his sister Barbara (Ray), his children Gord (Angie), Doug (Teresa), Christa (Kathy), Scott and Stuart, his stepchildren Ellen (Peter), Ian (Christine) and George, and by his grandchildren Jack, Grace, Emmy, Andrew, Liz, Malachi, and Jochem.
A celebration of Bill's life will be held at the Robertson-Wesley United Church (10209-123 St., Edmonton) on Oct. 24 at 2:30 p.m. (Livestream available: https://www.rwuc.org/live/) Afterwards, all are invited to join his "On On" at SOHO (11454 Jasper Ave.) so we can raise a glass to the unforgettable Sir Nookey. Food and drinks available for purchase.
Everyone is invited to come dressed as you think Bill would like, and Hash House Harrier or November Project grassroots gear are welcome.
In lieu of flowers, donations may be made to Community Options: A Society for Children and Families https://www.communityoptions.ab.ca/donations