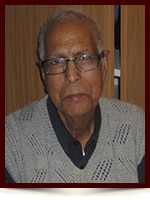 Sukhmohinder Singh Bajwa
On a clear blue warm Alberta winter afternoon (Sunday December 6, 2015) Sukhmohinder Singh Bajwa passed away peacefully surrounded by his loving family. He is greatly missed by his wife of 50 years, Amarjeet, daughter Goldie, sons Raman and Raja (Christina) and grandchildren Anna, Rohith, and Talin.
His passing is also mourned by his surviving sister Rajwant (Rabinder Sara), brother Ajit Singh (Joginder), nieces in Edmonton (Bavie, Preet, Judy, Nikky) as well as numerous nieces, nephews great nieces, great nephews, and friends across the world.
He was predeceased by his mother Bal Kaur and father Kartar Singh, as well as his sisters Surjit and Gurbachan and brother Garb Singh.
There will a service celebrating Sukhmohinder's life on December 11, 2015 at 1:00 pm at Trinity Funeral Home (10530-116 Street NW) as well as a Bhog ceremony (short prayer service) occurring at Singh Sabha Gurdwara (4504 Millwoods Road South) on Saturday December 12, 2015 at 3:00 pm.
In lieu of flowers, please consider a donation to either the Heart & Stroke Foundation or UNHCR's relief efforts for Syrian refugees.