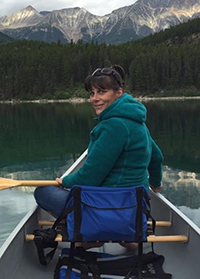 Susan Rae Fillion
Peacefully & surrounded by family, Susan passed away on August 23, 2020 after a short battle with cancer.
She is survived by her husband Cliff, daughter Marina (Cody), and son Mark, mother Audrey, father Gilles (Deceased), sisters Judy (Les) & niece Nicole (Rob), Tannis (Benson) & nephew Benjamin and Cliff's family; Mrs. Camire, Nina & Joel, Bob & Jody, Marty & Carrie, Lyle & Rita as well as nieces and nephews.
Susan has spent the better of her life in Edmonton AB. and leaves behind many dear friends, family and neighbor's.
She was predeceased by her first husband Sandy and spent the next remaining years raising her two children who she was extremely proud of.  Susan did her best to give her children the best upbringing she could. She taught them the love of the outdoors, from camping, sledding and many other adventures with friends and family.  With Cliff, they enjoyed many years on Sunset View Acres, where Sue could continue her love of gardening, flowers and caring for her dogs.
It was Sue's wish to have a celebration of life at home, on the acreage with family & friends.