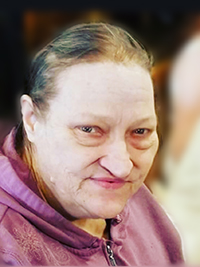 Suzan Ray LaRocque
With our deepest sadness we are informing that Suzan Ray LaRocque, passed away peacefully on October 23, 2018 in the St. Albert Hospital.
Suzan was born in Penticton BC. She was always involved in Girl Guides, and she loved to cook and bake. She received a level 1 certificate for the Chef's course through the Salvation Army in Chilliwack BC, Suzan had a great love for Tim Horton's coffee and Bingo.
The surviving family that Suzan left behind are: Steven (son), Karen (daughter in law), Vicki (daughter), Nonie (sister) Miguel (son in law), Andy (brother) and Leanne (sister in law); grandkids: Daniel and Nate, Bryan, Kenny and Conner, as well as nephews Nicholas and Wyatt, and niece Beth.