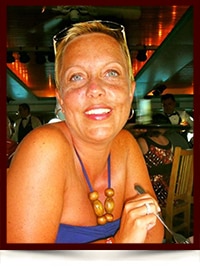 Tanis Jackie-Lyn Post
Tanis Jackie-Lyn Post passed away at the young age of 44 peaceful at home on Tuesday May 9 2017. She was surrounded by her entire family and fought right to the end. She is survived by her beloved and loyal husband Chris Post of 25 years. Her sister Michelle Bourque, niece Sarah Winterburn, nephews Parker, Kenton, and Jack Gardiner. Aunts Jackie & Brian Heathcote-Trite, Lynn Bourque, Kathy Bourque, Patricia Bourque, uncle's Tim Bourque, Ted Bourque and our God daughter Danielle Bourque, her Grandmother Doris Wilson. Cousins Brad & Tamara Williamson their kids Rebecca and Curtis. Cousin Dave & Samantha Dupuis and their son Hunter. Cousin Sabrina Heathcote and son Damon. Step-dad Ron Edmonds. She was predeceased by her loving mother Sally Edmonds.
My family loved Tanis as her own. She will be deeply and greatly missed. My parents Wayne & Joyce Post, Sister Corry & Gerald Hruschak and their kids Kaitlynn, Jessica, and Wyatt. My brother Wayne & Jennifer Post, Curtis & Cindy Post their children Maddison and Josh. Tanis was loved by our whole families and will now look over us as our guardian angel.
Tanis fought for life, love, and the beauty of each day. Tanis survived massive strokes and seizures in April of 2011. She had a miracle recovery from major brain damage. She battled for two years to relearn almost everything. In January of 2016 Tanis was diagnosed with stage 4 terminal breast cancer. It had moved to her lungs and liver. She battled through the chemotherapy and we enjoyed an amazing summer with our season ticket Edmonton Eskimos and going to different festivals, and again travelling back to one of our favourite destinations Cuba in November and had the greatest time ever walking the endless white sand beaches with each other. In January of 2017 Tanis started getting bad headaches and when diagnosed, we received the worst news once again. The cancer had moved to her brain, and Tanis needed brain surgery to remove three large tumors in the back of her head. She survived two different major surgeries and healed up to enjoy a little more time. We even won a contest and went to the Garth Brooks concert and got to meet him and his wife Trisha Yearwood backstage in February. We also got to have a few mountain vacations that where very memorable. Tanis took her first gondola ride and enjoyed the view from the top of the mountain this past March.
Tanis's final battle had come when the aggressive cancer had moved to her spine this past April, and the cancer had now paralyzed Tanis from the neck down. My wife fought with such beauty, dignity, and grace through the last six years. She died peacefully at her home with all family to say prayers, play her favourite music, and just tell her know we all love her. Tanis & I got to enjoy 25 wonderful years together. We lived a wonderful full life of love, laughter, and travel. We loved going to tropical beaches and just enjoy the long sun filled days. We danced with each other everyday with or without music, and made sure to kiss each other before going to bed each night. We shared a love that could fill two lifetimes!
Tanis's beauty shone on earth and now she will shine even brighter in the night sky. We will be launching Tanis's ashes into space on July 1 2017 and she will return back to the universe. She always wanted to become a star, and the star we chose for her will best describe our Tanis as this is the brightest star in the northern sky. Just as Tanis shined on earth. She will now shine bright each and everyday for all to admire in her beauty and glow.
The star name and location reveal will happen at her Celebration of Life service being planned for early June (more details to follow). With so many people wanting to share in the life of Tanis we require a large venue and we will give her the grandest of all celebrations!!!
Tanis, I cannot tell you how thankful I am for our little infinity... I wouldn't trade it for the world. You gave me a forever within the number days, and I'm grateful for that.
Our love story will continue...