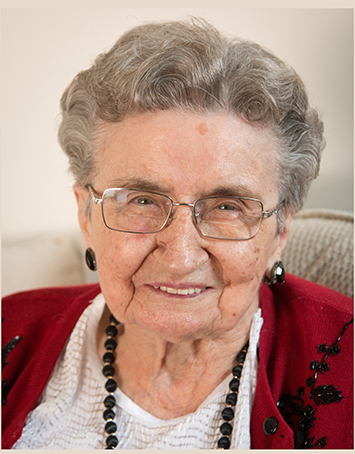 Tena Knecht
April 11, 1922
-
November 14, 2021
Tena Knecht was born in Bayard, Saskatchewan to Nick and Alice Feiffer on April 11, 1922.  She was called home on November 14, 21 just a few months shy of her 100th birthday.  Tena was the beloved wife of Jake Knecht and the mother of daughters Gloria, Jackie (Art) and Wendy.  She was the grandmother of seven and the great-grandmother (better known as GG) of five.
Tena was raised on the family farm by her father and step-mother, Pauline, her mother Alice having passed away when Tena was six years old.
She married Jake, the son of a neighbouring farmer, on October 13, 1945.   They lived in Moose Jaw, Saskatchewan for twenty years before moving to Calgary, Alberta.
Tena was a stay-at-home Mom who was always there for her husband and children.  Even after her girls were grown and on their own, she was always ready and willing to help them in any way she could.
Tena loved embroidery, gardening, travelling and camping.  Tena and her husband enjoyed over 25 years of square dancing with their friends and even braved the cold elements of a Calgary winter to square dance in the Opening Ceremonies of the Calgary Winter Olympics in 1988.
Tena was predeceased by her parents, three brothers (Harry, Mike and Victor), one sister (Marlene) and her eldest daughter (Gloria).
Tena loved the Lord and is now in His presence.  She is sorely missed by her two daughters; grandchildren Robert, Jody (Craig), Tina (Steve), Tim (Krista), Paul, Jennifer and Jessica; and her great-grandchildren Mason, Matthew, Kyla, Devon and Jonah.