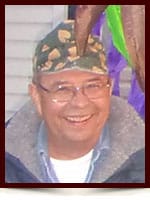 Terry James Phillips
It is with much sadness that we announce the passing of our dear father and husband Terry James Phillips, 66.  Terry passed away on February 12, 2015 while surrounded by his loving family. He was predeceased by his mother, Margaret Gares and is survived by his faithful wife Maureen Phillips, son Kevin Phillips (Tasha) and daughter Lori Phillips-Amar (John).
Terry was an ironworker welder and was a proud member of the Ironworkers Local 720. He was passionate about his work and was employed by Supreme Steel for over 30 years, where he was well respected for his work ethic and well liked for his good nature.
The most important aspect of Terry's life was his family. He was able to spend his final months in the comfort of his own home, with his devoted family by his side. They take great solace and are honoured to have been able to care for him.
 Terry was born in Viking, AB but lived much of his life in Edmonton, AB.  He will be greatly missed by his family, friends, neighbours and co-workers.
Celebration of Life 
Sunday March 1, 2015 at 1:00pm.
Royal Canadian Legion Kingsway Branch
14339-50 Street Edmonton, AB
Memorial Donations
In Terry's honour, to the Cancer Society
The Edmonton Humane Society
Amazon Cares c/o Just A Promise or the cause
Research or charity of your choice.
Contact Information:  [wpseo_address oneline="1" show_state="0" show_email="0"]