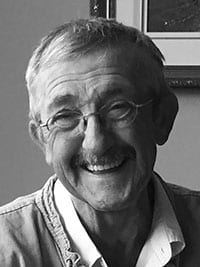 Terry James Wheeler
It is with profound sadness that the family of Terry James Wheeler announce his unexpected passing on January 4th, 2021 in Leduc, AB at the age of 66 years due to natural causes.
He will be lovingly remembered by his daughters Jennifer (Mark) and Lisa (Steve); cherished grandson Henry; brothers Bob (Dallas), Dan (Charmaine), and Dave; former spouse Debora; as well as numerous relatives and friends. He was predeceased by his father Kenneth, mother Bernice, and brother Allan.
Growing up in Lethbridge, Terry was surrounded by his brothers, numerous cousins, and an abundance of friends. He considered himself lucky to hold on to many of these relationships throughout his life. From a young age he held a vast array of knowledge and was truly a Jack of all trades. He spoke fondly of his summers spent being a leader at church camp, especially overnight trips to Waterton. There was a special place in his heart for all things cowboy related; he had an affinity for wearing cowboy boots and devoured western novels and movies.
Terry worked many years in the oil and gas industry, travelling the backroads of Alberta and beyond. He was always ready to lend a hand to anyone in need, and especially loved volunteering with his daughters' many extra curricular activities. He easily made friends wherever he went and always had a joke and a story or two to share. Terry enjoyed many hobbies throughout his life including golfing, camping, and cycling, especially with family and friends. He loved crossword puzzles, was a voracious reader, and loved to listen to audiobooks and music while he was on the road.
Terry's passing has left an unfillable hole in many lives, but we will remember him as he would have wanted, full of laughter and life. His greatest joy was his family, and the close bond he shared with his brothers and extended family was cherished. By far the favorite role he ever held was that of father to his two daughters whom he was immeasurably proud of. He never let an opportunity to brag about them go to waste. It was only surpassed by his absolute joy and pride at being a grandpa and he loved sharing the latest photos and videos of his grandson. He will be missed.
Stories and memories of Terry are preferred over condolences. In lieu of flowers the family would request a donation made to the Heart and Stroke Foundation or charity of choice. No funeral or memorial service is immediately planned. The family will notify loved ones in the future when a memorial is scheduled.