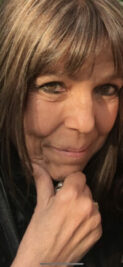 Terry Lynn Campbell
January 3, 1963
-
December 3, 2021
Hello Family and Friends,
Come Celebrate with us!!!
Our dear mother, sister, grandmother and friend passed away December 3rd, 2021.
Terry Lynn Davis/Campbell went to bed on the 3rd of December and woke up in the arms of Jesus. Terry was born on January 3rd, 1963 in Regina, Saskatchewan to Bell "Troy" Davis and Effie "Marie" High  and shared her life with her three children, Jennifer, Justin and Joey. Terry was also blessed with four grandchildren: Nick, Brook, Zach and Maddy. and four brothers: Gene (Kathy), Mike (Connie), Dave (Bonnie) and Stephen (Karen) - all who loved her very much - and will miss her.
Terry was predeceased by both of her parents, and her niece Emily.
Terry will live in our hearts and memories - until we see her again (and all of us are certain we will!) Terry gave her heart to Jesus in 2003 in Edmonton and shared her belief with some 300 people in June, 2019, who witnessed her baptism - a wonderful public display of her beliefs.  Throughout her sometimes turbulent life, Terry remained connected to all of us and as a family our love for one another always kept us together.  We will miss our mom, sister, grandmother and friend deeply, but we will remember all of the good that came from her playing a part in all of our lives.  We love you Terry (AKA Sissy).
"We are convinced that even if these bodies we live in are folded up at death like tents, we will still have a God-built home that no human hands have built, which will last forever in the heavenly realm." 2 Corinthians 5:1, The Passion Translation
I am sure right after she hugged mom and dad her first words were "where is the bingo hall". Oh we will miss you Terry… All your goofy jokes and all the games you loved to play…
Terry's service will be held on Saturday, December 11th, 2021 at 2pm at Trinity Funeral Home located at 10530 116 Street, Edmonton Alberta.
All friends and family are welcome to come celebrate the life of our beloved, sweet Terry. We understand that for most of you, it may be hard to travel, or even to gather with covid-19 restrictions still in effect, so we will be providing a live feed link so you can join and say your good byes.
Thank you all for your kind words and support as we say good bye.
Anyone who wishes to join the service online please go to the following link:
https://vimeo.com/655411230/6cba0c9a41
Please feel free to leave a condolence or share a memory. In lieu of flowers, a donation can be made to a foundation of your choice.