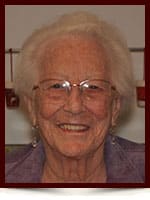 Thelma L. Johnston
Thelma Johnston
On May 8, 2015 Thelma passed peacefully at the age of 93.
She is predeceased by her parents as well as her husband Allan in 1983.
She will be fondly remembered by her children; Gloria, Thomas (Chris) and Marsha, 5 grandchildren and 4 great grandchildren. As per Thelma's request, no funeral services will be held. 
In lieu of flowers, donations may be made in Thelma's name to the Heart and Stroke Foundation (Alberta chapter) or Dogs with Wings Assistant Dog Society.
Contact information:  [wpseo_address oneline="1" show_state="0" show_email="0"]