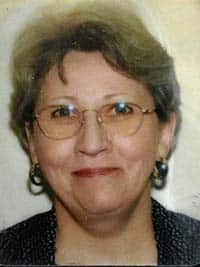 Theresa Anne Rollins nee Ference
April 29, 1952 – April 28, 2018
The family of Theresa Rollins sadly announces her passing on April 28, just one day shy of her sixty sixth birthday. She spent most of her life struggling with poor health. One of the kids said that the Royal Alex Hospital was part of their childhood as "Mom" spent many months there. Despite this, it never dampened her overwhelming positive spirit. Her family was always her focus in life. She loved her
garden and treated flowers like grandchildren.
She will be sadly missed by her loving husband Hugh; her children: Leah, Matthew (Tanya), Jeremy (Vanessa) and Anneliese; as well as grandchildren: Rabecka, Christopher, Adison, Isaac, and Ari; siblings: Tom (Eileen), Bernadette and Felix Ference; sisters-in- law Elaine Werk and Sharon Mellor; as well as dear friends Anne-Lise and Henning Larson.
She was predeceased by her parents John and Jean Ference and one brother Tony.
The family would like to thank all the doctors and nurses who have helped her over the years, and especially the staff at the Royal Alexandra Hospital ICU, who treated Theresa and family with outstanding care and compassion. For this we will be forever grateful, Thanks to all.
God bless you Theresa.
At Theresa's request, there will be no service.