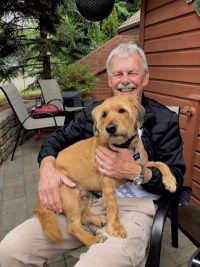 Timothy Michael Kennedy
Timothy Michael Kennedy – May 7, 1948 – September 5, 2020
On Saturday September 5, 2020, Tim Kennedy, incredibly loved husband, father, grandfather, brother, uncle, brother-in-law, friend and one of the best and most awesome men in our lives, left us much too soon after an extremely short battle with cancer. Tim often remarked that he did not want to hang around suffering in old age. Right to the end he was lucid, funny, at peace and of course stubborn. On the morning of his last day he joked with the hospital staff, sent a few text messages, beat his brother-in-law in yet another game of on-line scrabble – and by the afternoon he was gone.
Tim was born in Cranbrook, BC on May 7, 1948 and had many great memories of growing up in a small community. He always said the best days of his life were spent near the Eastport-Kingsgate border crossing where his Dad worked as a Customs Officer.
After high school, Tim spent a few years in the Navy as a radio operator. Returning to Cranbrook, he joined what was then called Manpower and Immigration subsequently living in Osoyoos, Vancouver and Kingsgate where he was promoted to a Customs Officer.
However, his childhood passion was to be a "Mountie" and when he applied his Mom laughed saying they will never take you! To her surprise, he entered depot (R.C.M.P. training) in Regina in the fall of 1975. After graduation in 1976 he was posted to Dawson City, Yukon and was there for a very short time before being transferred to Whitehorse. From there he went to Mayo, Yukon in 1977 where he always said he met the only woman who would put up with him. He married Liz in 1978 and they built a life together. Forty-two years of adventures followed; with moves from the Yukon to Newfoundland , back to BC and finally to Alberta. Tim's mantra was either dazzle with brilliance or baffle with bull, which he acknowledged with a laugh.
Tim thought this statement said it all, Life should NOT be a journey to the grave with the intention of arriving safely in an attractive and well preserved body, but rather to skid in sideways – Rum and Coke in one hand – ginger chocolates in the other – body thoroughly used up, totally worn out and screaming, WOW what a ride!
Over the past month Tim had a chance to spend time with family, shared some big smiles with his newest grandson Ari, reconnected with friends scattered across the country and welcomed many visitors. While we are sad, we are also uplifted by the stories of his humor, kindness and love of family.
Forever in our hearts, he will be remembered and missed by his wife Liz, sons Ryan Kennedy (Sam) and grandson Ari, Justin Kennedy and Brad Chappell (Aleta) and grandsons Hayes and Cowan; brother Pat Kennedy; sisters-in-law Noreen Kennedy and Terry Kennedy, and fondly known as BIL (brother in law) to Bob and Ginny Alger, John Meston, Stuart and Shelagh Meston and Dave and MJ Reich; many nieces and nephews and his two best friends Mike Littlejohn and Joe Mitchell. He is greatly missed by his constant companion Baxter.
Photos, memories and condolences may be shared through https://www.trinityfuneralhome.ca/
If friends/family would like, donations may be made to the Cross Cancer Institute in Edmonton.
At Tim's request there will be no formal service. However, a celebration of his life is being planned for June 12, 2021 when family and friends can safely gather together to share stories. Please feel free to email tekennedy45@icloud.com for updates.
There are no goodbyes for us. Wherever you are, you will always be in our hearts - Gandhi