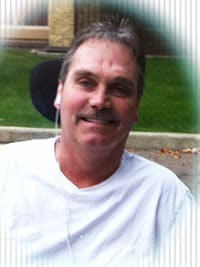 Timothy (Tim) David Badry
July 29, 1963 – July 12, 2019
It is with great sadness the family of Tim must say goodbye for now to a beautiful soul who departed his earthly world to be with his lord at the young age of 55. He is survived by his daughter Carolyn (Jim) Badry-Yake, grandsons Brandon, Tony & Dominic (new baby Joshua Timothy to be born July 26), and his only son Matthew Badry. Four siblings Dawn (Ken) Scott, Kathleen Badry, Steve (Brenda) Badry and youngest sister Lisa (Bob) Badry-Breen. His father Norm Badry (Delores) and Rhonda Hoffart-Badry the mother of his children, and friend Linda Leverton, along with numerous nieces, nephews, aunts, uncles and cousins. He was predeceased by his mother Carole Badry in January 2017, and three uncles and his grandparents.
Tim had a passion for cars and enjoyed listening to classic rock music. He loved to affectionately call his family "bug" or "bugs" when they annoyed him, and it always made them laugh. Tim was baptized Roman Catholic and loved Jesus. He suffered a tragic workplace accident in 2011 that left him a paraplegic. It was a difficult road for him, but he was strong and always fought his medical issues with the help of his dedicated care-workers until he could no longer struggle anymore.
He is in heaven now with his mother and will suffer no more pain. Our Father, Brother, Son, and Friend will be forever loved and missed by all who knew him and whose lives he touched.
For God so loved the world that he gave his only begotten Son that whosoever believeth in him should not perish but have everlasting life. John 3:16
FOOTPRINTS
One night a man had a dream. He dreamed he was walking along the beach with the LORD.
Across the sky flashed scenes from his life. For each scene he noticed two sets of footprints in the sand; one belonged him and the other to the LORD.
When the last scene of his life flashed before him, he looked back at the footprints in the sand. He noticed that many times along the path of his life there was only one set of footprints. He also noticed that it happened at the very lowest and saddest times in his life.
This really bothered him, and he questioned the LORD about it. "LORD, you said that once I decided to follow you, you'd walk with me all the way. But I have noticed that during the most troublesome times in my life, there is only one set of footprints. I don't understand why when I needed you most you would leave me."
The LORD replies, "My precious child, I love you and would never leave you. During your times of trail and suffering, when you see only one set of footprints, it was then that I carried you.