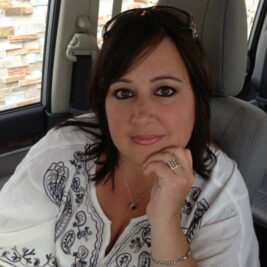 Tracy Leahanne Gibson
January 1, 1971
-
February 25, 2022
It is with overwhelming sadness that we announce the passing of Tracy Leahanne Gibson on Friday Feb 25/22. She lived the last 25 years with fibromyalgia and chronic pain. This only got worse over the years. Two days after her 51st birthday on Jan 3/2022, she was diagnosed with Stage 4 Terminal Cancer. She tried to fight as long as she could, but the warrior lost her courageous fight on Feb 25/22. She passed away at home in her own bed, which she always referred to as, her sanctuary. She was surrounded by loved ones. She is now pain free and resting in peace.
Tracy is survived by her fiance Greg Higgins, her mother Suzanne Boulerice-Higgins, her brother Faron Nowen her son Shea Gibson and his wife Karla Mallach, her daughter Karissa Gibson and her husband Derek Braun, her daughter Emilee Gibson, and her youngest son Slater Gibson. She will be sadly missed by her closest friends Lori Gagne, Christine Ware and Pat Lawrence. They have stuck with her and been by her side over the years.
Tracy was a stay at home mom. She later became a fierce advocate and fighter for Autism, due to her youngest son, Slater and his diagnosis. Tracy's biggest passion in life was to travel. She firmly believed that you should never go to the same place twice, the world was just to big. She has traveled Canada extensively. She has gone up and down the east and west coasts of America. She has been to Mexico, the Caribbean, England, a long road trip through Europe, Israel, Jordan and the far east. She spent a few years living in the middle east and travelling to the United Arab Emirates and India. Her time in the middle east was her most favourite experience of her life. The weather was always hot. She loved the culture, customs , the people, made friends there that still last to this day.
 About 4 or 5 years ago she started a Facebook page from her bedroom while living in Fort St John B.C. It is called the World of Women  (W.O.W).  Se had so much joy and happiness trying to build the site to what it has become. As women from around the world joined the group, she took great pride in what the site turned into with every members help. She wanted a site where women could talk, joke, share, help each other out. Most of all she wanted to make people smile and laugh. Tracy was able to help out countless people with advice, a shoulder to cry on, or just someone to talk to at any hour of the day or night. She would lay in bed every night searching the internet for funny memes or jokes. She always wanted a supply on hand so there was always something funny to post and put smiles on peoples faces. She had an impact on people around the world. As of today there is just over 6,300 people on World of Women. We ask that the women of W.O.W to keep this site going in Tracy's memory.
During the last 2 years she taught herself to knit and crochet, with Youtube as her teacher. She would sit on the deck knitting away while talking with neighbors as they would walk by, or in the living room listening to the T.V. She made baby clothes for her grandchildren that have not been born yet. She became a friend to the neighborhood kids. She had them help her with planting in the summer. She made them Halloween and Christmas baskets. She knitted the kids and their parents toques for this past Christmas. She had the kids over to her beauty room for craft days. They would wreck the room in excitement, in turn putting the biggest smile on Tracy's face. She was happy that they were happy.
 We should all live life by her motto - Live, Love, Laugh
 Tracy, you will be always loved, forever missed and never be forgotten. You will live on in our memories. May you rest in peace.