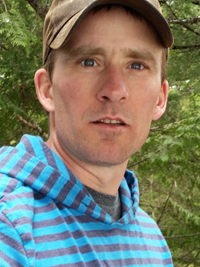 Trent William MacMullin
On Saturday, November 16, 2019, Trent William MacMullin passed away at the age of 45.
Trent will be remembered as a kind-hearted soul, with a quick wit, who took many opportunities to catch his friends in a joke. Trent was an industrial painter over the past 20+ years. Over the last 2 years, he was able to immerse himself in his favorite activity, fishing.
He is sadly missed by his three "girls"; wife Heather(Woodworth), and daughters Natasha and Katelyn; his Mother Phyllis MacMullin(Long); Sisters Petrina (Peter) Benjamin, and Callista MacMullin; Stepfather Garnet Harrington; Step-siblings Angela, Susan, and Paul Harrington; Nieces Rachel, Briana, and Amanda; Nephews David and Elon.
Memorial Donations
Edmonton Victim Services
Unit 110, 14315-118 Ave
Edmonton AB T5L 4S6
 Or To
Canadian Mental Health Association