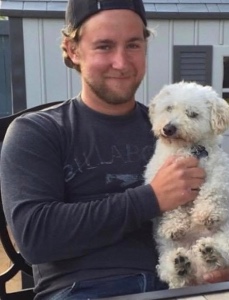 Trevor Douglas Kinasewich
May 21, 1987
-
November 8, 2023
It is with deep sadness we announce the sudden passing of Trevor Kinasewich, November 08 2023.
Trevor was born in Edmonton AB, and lived the majority of his years in the St Albert Area. Trevor graduated from Paul Kane High School.
Trevor had passions for many sports but his two favourites were hockey and golf. Trevor played on numerous teams over the years making long lasting friendships along the way. Trevor was an avid golfer and always up for a round or two. Trevor had a soft heart for animals, if you had a pet at your house they were usually beside Trev lapping up the scratches and cuddles.
Trevor is survived by his parents Sid ( Paulette) -Sandra - brothers Lee ( Marni) -Ryan ( Krysti)- nephews Austin - Blake as well numerous Aunts, Uncles, Cousins and numerous friends.
Trevor will be greatly missed.
In Lieu of flowers donations can be made to Sports Central or Infinite Woofs Animal Rescue Society in Trevors name.