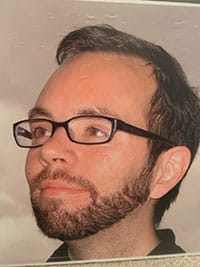 Tyler William Carrigg Coe
Died December 8, 2020
We are heartbroken to announce that Tyler William Carrigg Coe, born 24 December 1979 at the Edmonton General Hospital, passed away peacefully, but unexpectedly, on Tuesday, December 8, 2020 at the age of 40, just shy of his 41st birthday. He died from the stress of ongoing complications from a traumatic brain injury received in a car accident just outside Edmonton in 2012. Tyler had been living in what is now the Edmonton General Continuing Care Centre, bound to a wheelchair, for the past six years. Prior to going to the Edmonton General, Ty was in the Royal Alex Hospital for a year (intensive care, neuro-trauma and pulmonary units) as well as a year at the Halvar Jonson Centre for Brain Injury in Ponoka for rehabilitation. The family is grateful for the amazing care Ty received in all of these facilities with everything possible being done for him.
We can't imagine a life without Ty and his passing has left a huge hole in our hearts.
He leaves behind to mourn him, his father Robert Coe, mother Virginia (Ginnie) Carrigg Thompson and stepfather Brian Thompson, his very much adored sister Heidi (Antoine) Dube and nephews Nico and Max, as well as stepbrothers Brendan (Telly), Colin (Jess) niece and nephew Calla and Parker, Shaun (Chantel) nephew Eli. Tyler was so proud of being an uncle. He also leaves behind a very large family of aunts, uncles and cousins, both in Canada and Australia.
Despite having multiple serious complex health issues, frequent hospitalizations, constant pain, discomfort and several physical issues to deal with as a result of the accident, Ty remained a most empathetic, compassionate, engaged and loving person who dealt with his many challenges with incredible grace. His initial prognosis for any meaningful survival was pretty dire and it is a miracle that Ty pulled through and endured and survived all of the subsequent issues which followed. His biggest frustration was not being able to eat solid food (he was tube fed directly into his stomach) and he became addicted to cooking shows. The strain on his body over the years has been immense and, even though he constantly reassured us that he was fine and strong, there is a limit to what can be endured.
His love of his family, his friends, music (he was involved with Kokopelli Choir for several years), camping in the mountains, trivia (he was a formidable trivia and crossword participant), his quirky sense of humour and, of course, his love of language and use of the biggest most obscure words he could think of to confound one and all, are things which defined him. He was incredibly intelligent and very proud of his top level Mensa membership. Ty was also a talented poet, a trait no doubt inherited from his paternal grandmother.
Tyler loved and appreciated all the visits from family and friends who made time over the past 8 years to involve him in their lives. Sadly COVID took away many these opportunities during the past year of his life. He lived in Sherwood Park for most of his childhood, moving to Edmonton for the last two years of high school. He went to school at Wes Hosford Elementary, F.R. Haythorne Junior High, Bev Facey High and also Victoria Composite. Ty stayed and worked in Edmonton since graduating high school (his last job was as Assistant Manager at Red Wing Shoes in Edmonton) and forever defended Edmonton as a great place to live.
Cremation has taken place. Tyler requested an outdoor celebration of life, in lieu of a service, to be held at a later date when we can gather to share hugs, tears and stories.
You may wish to consider a donation to the Covenant Health Foundation into a fund to purchase furniture for the new outdoor patio attached to the 4Y unit - this patio gives residents in that unit the chance to go outside, something which had not been possible for many of them.