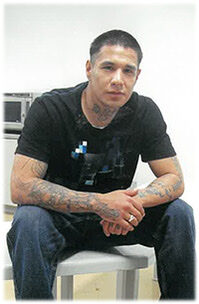 Tyson Keith Hotomani
Passed Away
September 13, 2021
It is with great sadness that we announce the passing of Tyson Keith Hotomani.  Tyson will be lovingly remember by his common-law wife Justine Applegarth; his children: Santana Longman, Araya-Sunshine, Dakota, Gracie-Mae and Kashes; his two grandchildren; his father Lawerence Pelletier (Donna); siblings: Kevin (Connie), Rynn (Teresa), Mary, Crystal (Dale), Leslie (Lenny), Spring (Meadon), Glenace (Chad), Mike, Jonah, Travis, Chris, Delta (Stephen) and Shana as well as numerous nieces and nephews who he adored as well as Aunts and Uncles.
Tyson was predeceased by his mother Penny Weatherbee; his parents Emile Sr. and Florine Hotomani; brothers Emile Hotomani Jr, Joseph, nieces Elizabeth Hotomani, Tara Brooke Esquash, Brooke Hotomani and his grandparents Ernest and Mary Belanger.
Tyson had so much love for his children as they were his world. Tyson also loved being outside. One of his favourite things to do is take a drive to the mountains with his family. He loved sitting by fires, joking around and boy he would love to eat. Tyson you would be forever missed by Justine. Missing you always and forever my gingerbread man :(
One night I dreamed a dream.
As I was walking along the beach with my Lord.
Across the dark sky flashed scenes from my life.
For each scene, I noticed two sets of footprints in the sand,
One belonging to me and one to my Lord.
After the last scene of my life flashed before me,
I looked back at the footprints in the sand.
I noticed that at many times along the path of my life,
especially at the very lowest and saddest times,
there was only one set of footprints.
This really troubled me, so I asked the Lord about it.
"Lord, you said once I decided to follow you,
You'd walk with me all the way.
But I noticed that during the saddest and most troublesome times of my life,
there was only one set of footprints.
I don't understand why, when I needed You the most, You would leave me."
He whispered, "My precious child, I love you and will never leave you
Never, ever, during your trials and testings.
When you saw only one set of footprints,
It was then that I carried you."